METEORITE ALERT:
Bill Cooke, head of NASA's Meteoroid Environment Office has issued a meteorite alert for residents of small towns east of Cleveland, Ohio. There could be space rocks on the ground waiting to be found. "On August 8 at 1:22 Eastern Daylight Time, all-sky cameras belonging to the Southern Ontario Meteor Network detected a fireball entering the atmosphere 54 miles above Lake Erie (80.944 W, 41.945 N), moving SSE at 25 km/s (55,900 mph). There is high confidence that this meteor produced meteorites." For one thing, the debris appears to have produced echoes from KCLE's doppler radar in Cleveland; note the circled reflections: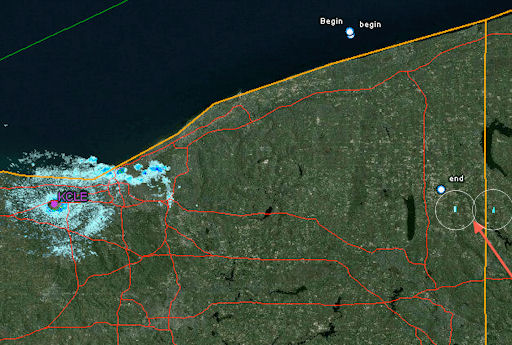 "The deep atmospheric penetration of this fireball combined with its deceleration and doppler radar echo strongly suggests a fall somewhere in the countryside east of Clevelend," continues Cooke. Pushpins in
this Google map
show some possible fall locations based on different assumptions about the meteorite's speed and mass. There could be debris anywhere in the countryside around the Ohio towns of Warren, Kinsman, and Hermitage. Readers who find a candidate meteorite are encouraged to contact the
Meteoroid Environment Office
for further instructions.